So I received the new Google Chrome OS netbook today from UPS. First impressions were ooh and ah. Below is a picture of the box it came in. Pretty awesome looking.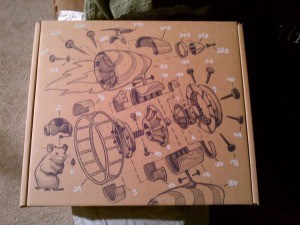 Unpacking it was really simple and felt pretty awesome just know to get one. There wasn't much to it, just two pieces of paper; the simple "How to get started" sheet and then the "Yeah, we gotta do this" sheet; this sheet was hilarious, I will have to post it later. The computer comes nicely packed in bubble wrap and the battery in a standard plastic sleeve wrap. The power cables twist tied and plastic sleeve wrap.
Google nicely had some charge on the battery, so I was able to just plop the battery in and get going.
The design is very sleek and is most definitely built just for an online computer. There's no "F" keys to really speak of. Granted, the keys above the numeric keys would be label as "F" keys but they are not arranged or designed as the normal "F" keys would be. The first key is "ESC" and then Back, Forward, Refresh, Full Screen, Next Window, Dim Screen, Brighten Screen, Volume Mute, Volume Down, Volume Up and Power.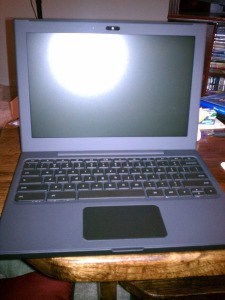 Typing on this piece of hardware is a breeze. The keys are very large and spaced out very well. The trackpad reminds me of a Mac laptop's. No physical buttons showing but there is one. No right-left just one single big one. Of course you can still do right click; you can use two finger press or Alt-click. I have found the two finger press to mainly only work when you have tap-to-click enabled and I hate that so I must resort to Alt-click. Which isn't horrible considering that since there is no "Super" key, the left Ctrl and Alt buttons are larger than your average keyboard. Also, there is no CAPS-lock key, which I find interesting. They have replaced it with a "Search" key, which effectively acts as a "New Tab" key. The rest of the keyboard is standard. You have QWERTY, two shifts, two Ctrl, two Alt, enter, punctuation and arrow keys and backspace. There is no "Delete" but holding Alt+backspace, you have you delete key.
My first real impressions on using Chrome OS is that it is well, just Chrome. True it's built ontop of Linux and you can see that when asked to upload from the desktop or save to desktop, you see very generic GNOME. Other than that, you don't see Linux. No kernel selection, no actually desktop. You can't even manage to use a file manager (at least for now) to look at what and where files are. Chrome OS has its own file manager strictly for downloads. Not like the downloads section in Chrome, though that is still there.
Being such a heavy desktop user, it is slightly difficult to get used to everything being online. One of my biggest gripes is the camera. It's fantastic but it seems that the only real use for it is to use it in chat. If there was just a local app that linked through Chrome OS, it'd be fantastic. They could somehow hotlink Cheese to it and have it save to Picasa. I'd be alright with that. Other than that, Docs is fine to replace OpenOffice.org. Picasa (or any other photo manager online) is fine to replace Shotwell. GChat is its own little pop-up app, so it works. Ebuddy or Meebo work fine to replace Pidgin or Empathy. There are plenty of fine online apps that replace desktop versions but the camera apps online normally seem to pixelated for my tastes. I know there is some little app that was written for the desktop on here because you can take a picture of yourself for your account that just stays on the computer, not the cloud. I would like to use even that because the desktop app is more powerful is using the full capabilities than an online one would.
The machine gets bogged down pretty fast sometimes. It's running a very fast processor but it's not meant for heavy usage like I put my computers through. I'm a fast user and like my hardware to keep up but really, I can't complain too much, a free computer and it delivers what it promises to do: takes you to the net reliably and lets you browse, write emails, docs, etc. and lets you save to the net. One nice thing is that you sign in with your Google account and you can still let your friends use the computer under a guest account or add their own Google account.
I will have more the more I use it. I've sent a few requests so future users will have a better experience but I can't complain, this is a good little machine.
---
---